Category Archives:
art
Yep, it's quickly approaching July and if you're a resident in the Phoenix area you know that means…First Fridays artwalk is here. This month will at Mr. Matt Browns gallery will be a theme night of art upon round objects. Yep, round ones! And spinning up the delectable round 12″ vinyl during the night will be my friend 1$ON along with Carmen Vega and Nemes1. Another friend of mine, Erika Jaynes, will be showcasing a couple of her paintings there too. I'll be down there for a bit, so come stop on by! Meet some cool people, listen to some fresh beats and enjoy all the local art Phoenix has to offer.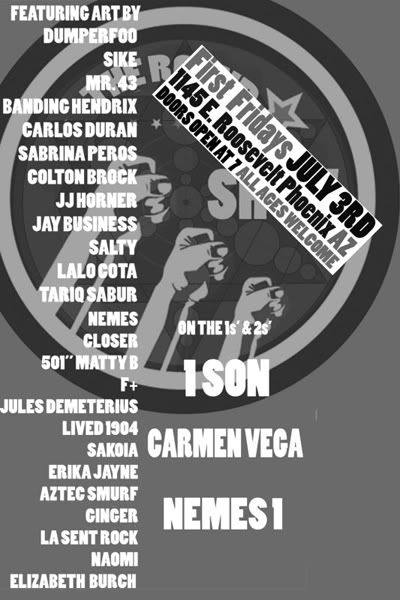 I wish I had made a post about this sooner! This weekend in beautiful Northern Arizona will be the Good Times Festival, up at Pine Mountain Amphitheater. I'm extremely excited to get out of this heat and enjoy an amazing afternoon / evening of hiphop and digital basslines. I'll be riding up with a few friends, and hopefully we get a campsite sorted out. We were a little late at getting our shit together, but I have a few friends who are going that already have campsites.
Main headliner, as you can see from the flyer, is Bassnectar. Local crew the Drunken Immortals will be there, my good friend Terra, the Crusher Sound System crew and a whole lot more.
If you are coming through AZ and are up north, try and get to this show. Tickets were $32 pre-sale, I'm no sure how much they will be at the gates. Doors open at 12pm, but I won't even be heading up till sometime early Saturday morning. If you're up there, say hi!